Engaging Everyone: Creating Accessible, Powerful Social Media Content
Part One can be viewed on YouTube and we have provided a roadmap and other useful links below.
Sign Up for Part Two – March 2!
Sponsored by CIL and Neighborhood Access
Part One: The Basics
Learn how to create accessible, powerful social media. Part one is designed for beginners: people who are new to using social media or have a very basic understanding of Facebook, Instagram, and Twitter. Presenters will cover the key features of each platform, the best type of content for each, how to make your content accessible, and how to post on each platform.
Useful Resources
Part Two: Messaging
March 2, 2022
In part one, we covered the basics of how to create accessible posts for Facebook, Instagram, and Twitter. In part two, participants learned about the parts of an effective social media campaign. Presenters walked through the parts of a campaign, how to define your message, how to influence and target your message, and how to measure your impact. Presenters discussed different strategies and walk through campaign examples.
Meet the Presenters:
Jules Good
Jules Good (they/them) is the founder and consulting lead at Neighborhood Access. Jules is a multiply-disabled entrepreneur with a passion for leveraging design, community, and intersectional justice principles to create more accessible neighborhoods. They hold a Master in Public Policy from the University of New Hampshire. Jules has worked with nonprofits, state agencies, and private businesses to aid in making their practices and processes more accessible to the disabled community. They are deeply involved in disability justice work both locally in their current home state of New Hampshire, and nationally.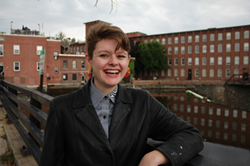 Samantha VanSchoick
Samantha VanSchoick (she/her) spends most of her time passionately & meticulously infusing creative energy into high-impact marketing and business development campaigns. As Director of Strategic Partnerships at CIL, a nonprofit real estate development organization, Sam seeks out opportunities to create a world where all people have access to quality, accessible housing in neighborhoods of their choice. Sam serves as the Communications Workgroup Co-chair for Dignity Alliance Massachusetts, a coalition of organizations and advocates across Massachusetts that believe in dignity, choice, and self-determination for aging and disabled persons.