The Legislative Workgroup studies the current Congressional, State Senate and House legislation to determine which bills align with the Dignity Alliance mission. A bill should contribute to one of our goals. The membership is notified of any bills of interest, and is given the opportunity to sign on.
Please advocate for our endorsed bills by contacting your legislators.
Visit the Advocacy Page for a detailed list of our goals.
Thank you to everyone who attended our February 16 Sponsorship Event at the State House!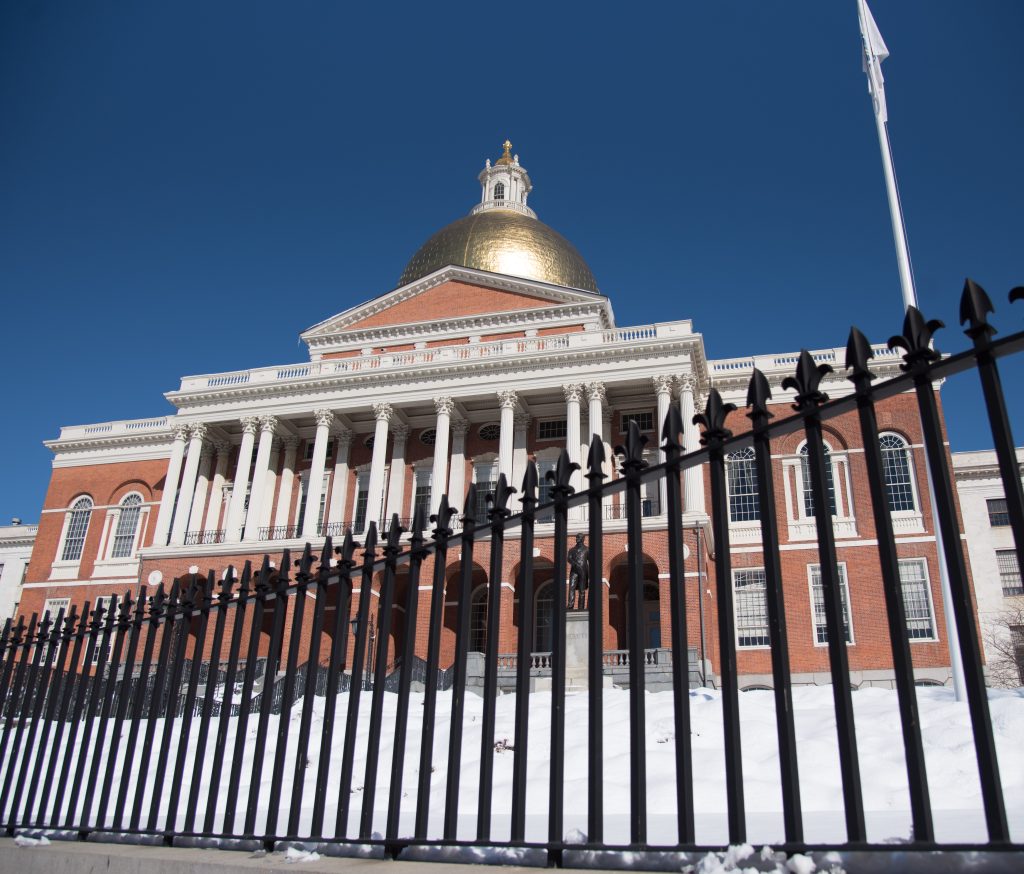 How to use Tables (below)
A table can be resorted by clicking on the headings, such as Bill Number. Click the heading again, and the table will sort the opposite way.
The Search will present all bills that match your input in any field.
Use the buttons to download the table.
2023 MA Bills
13 bills have been sponsored by Dignity Alliance Massachusetts that would improve the lives of older adults, people with disabilities, and their caregivers.
DignityMA has also endorsed a number of legislative proposals sponsored by other organizations.
All bills listed have been endorsed by Dignity Alliance Massachusetts.
Read the Dignity Alliance Legislative Package 2023 – 2024 (pdf) (posted 3/16) to learn how the state legislature can make our priorities become actual improvements in long term services and supports.
2023 - 2024 State Legislature Bills
Senate
House
Title
Committee
Lead Sponsor(s)
More Info
Goal
~
H0623
An Act to improve quality and safety in nursing homes
Joint Committee on Elder Affairs
Carol Doherty
Ruth Balser
Christopher Hendricks
Rodney Elliott
James Hawkins
** DignityMA Sponsored **

DignityMA Testimony for H623.pdf
1
S0377
H0633
An Act relative to transparency and accountability in nursing homes
Joint Committee on Elder Affairs
Patricia D. Jehlen
Mark C. Montigny
James B. Eldridge
Sally Kerans
** DignityMA Sponsored **

DignityMA Testimony for S377 and H633.pdf
1
S0390
~
An Act to ensure resident safety within assisted living facilities (*)
Joint Committee on Elder Affairs
Mark C. Montigny
Paul A. Schmid, III
Christopher Hendricks
James B. Eldridge
** DignityMA Sponsored **
This act requires assisted living residences to have and maintain automatic external defibrillation devices and train staff in the use of such equipment, updates a reference in the membership in the Assisted Living Advisory Council to recognize the creation of the secretary of housing, and provides for a human rights committee in each ALR to protect the rights of residents
2
~
H0142
An Act relative to community living for older adults and people with disabilities
Joint Committee on Children,
Families and Persons with Disabilities
Josh S. Cutler
Brian Murray
Carol Doherty
James Eldridge
Vanna Howard
** DignityMA Sponsored **
This act encourages participation of older adults and people with disabilities to participate in community life by amending the Open Meeting law to ensure that these groups have access to local and state government activities.
Subject to local acceptance, the bill allows reduction in property taxes to keep living in communities affordable, provides Architectural Access Board regulations to apply to renovation as well as new construction to promote greater accessibility, protects homes of older adults and people with disabilities from being acquired in payment of MassHealth costs, encourages the construction of accessory dwelling for older adults and people with disabilities, authorizes personal care homes for older adults, and
prevents bullying in public housing.
Finally, it establishes a special commission on alternatives to arrest and incarceration
for individuals with developmental or intellectual disabilities. This has been problematic for individuals who act out in public, but are generally not responsible for their actions.
Police sometimes misjudge the situation, and the incident can escalate to the detriment of both the individual and the police. The commission will look at solutions to this problem
3
~
H2874
An Act promoting accessible dwellings for older adults and people with disabilities to remain in their communities
Joint Committee on Revenue
Kate Lipper-Garabedian
Ruth B. Balser
James B. Eldridge
** DignityMA Sponsored **
This bill encourages home modification for seniors to help them remain in their homes as they age, promotes expanding the availability of adaptive housing for consumers with disabilities, mobility impairments and older adults, expands the authority of the Architectural Barriers Board to cover renovations as well as new construction to promote accessibility, and establishes a livable home modernization program.
3
~
H1241
An Act to improve discharge opportunities from acute care facilities
Joint Committee on Health Care Financing
Lindsay N. Sabadosa
James Eldridge
** DignityMA Sponsored **
This bill promotes a more robust hospital discharge program requiring consideration of placements in the community with appropriate services and support, rather than always referring patients to nursing homes.
3
S1952
H2752
An Act to improve long-term care staffing and dignity for caregivers
Joint Committee on Revenue
Bruce E. Tarr
James B. Eldridge
Manny Cruz
** DignityMA Sponsored **
This bill would establish a career ladder for home care workers, create a family care- giver tax credit, authorize spouses to serve as paid caregivers, strengthen emergency preparedness for home care workers and protect the health and safety of home care workers.
4
0S403
~
An Act to improve resilience in older adults and people with disabilities during public health, environmental or technological emergencies
Joint Committee on Elder Affairs
Bruce E. Tarr
James B. Eldridge
** DignityMA Sponsored **
This bill provides that in the event of a public health emergency or other natural or
technological disaster, the secretaries of health and human service and elder affairs shall coordinate the response of the public health officer, emergency responders, and public
safety personnel relative to protecting older adults and people with disabilities in (1) demographic, (2) physical, (3) psychological, (4) spiritual, and (5) socio-cultural factors.
The act would direct councils on aging that receive state funding develop emergency
plans to protect older adults and the disabled in their communities. The bill directs the executive office of housing to develop a grant program, subject to appropriation, to make homes of older adults and people with disabilities more resilient to disasters and to improve home safety
5
S0396
H0622
An Act to establish the office of elder advocate
Joint Committee on Elder Affairs
Josh Cutler
Jake Oliveira
Brian Ashe
Patrick O'Connor
Michael Moore
Kathleen LaNatra
Smitty Pignatelli
Linsdsay Sabadosa
James Arena-DeRosa,
Carmine Gentile
Carol Doherty
Paul McMurtry
Mindy Domb
Vanna Howard
James Eldridge
Pat Jehlen
** DignityMA Sponsored **
The bill is new this term, and establishes an office of elder advocate within, but not subject to the control of, the Executive Office of Elder Affairs with the authority to respond to complaints for residents or staff of nursing homes, rest homes, as well as assisted living residences.
It is modelled on the current statute that established the Office of Child Advocate. The office has the authority to initiate a complaint on its own without need for one to be submitted if it believes there may be probable cause of a violation of the rights of residents.
If the office is established, it will add an important new tool to support consumers and staff in long-term care, and supplement the oversight of the Department of Public Health (responsible for nursing homes and rest homes) and the Executive Office of Elder Affairs (responsible for assisted living residences).
1
S1922
H2770
An Act to ease the tax burden on older adults, people with disabilities and their caregivers
Joint Committee on Revenue
Carol Doherty
Jake Oliveira
Alan Silvia
Rodney Elliott
Patrick O'Connor
Paul Feeney
James Eldridge
** DignityMA Sponsored **
The bill includes easing taxes on older adults, as recommended in the plan proposed by the Baker administration, including expanded eligibility for the senior circuit breaker program that benefits elder home owners and renters.
In addition, the bill includes a tax credit for family caregivers. Caregivers provide a variety of services for senior citizens and people with disabilities every year. Often, these caregivers are taking care of their parents or loved ones and will pay for medical expenses with their own money. Such dedicated caregivers would be eligible to receive this caretaker tax break and deduction. These deductions help defray the cost of taking care of loved ones, allowing the best care possible.
3
~
H0655
An Act requiring dignity, privacy, and safety for residents in nursing homes and rest homes
Joint Committee on Elder Affairs
Thomas P. Walsh
Rodney M. Elliott
James B. Eldridge
** DignityMA Sponsored **

DignityMA Testimony for H655.pdf
1
S0399
~
An Act protecting the rights of older adults and people with disabilities
Joint Committee on Elder Affairs
Rebecca L. Rausch
** DignityMA Sponsored **
This bill improves enforcement of the rights of older adults and people with disabilities by making the rights of nursing home residents consistent with rights granted by the departments of mental health and developmental disabilities, establishes a human rights protection organization in each nursing home, and directs the department of public health to train human rights committees and to oversee the program.
1
S2012
H2987
An Act to establish a COVID-19 Remembrance Day
Joint Committee on State Administration and Regulatory Oversight
Patricia D. Jehlen
Ruth Balser
Rebecca L. Rausch
James B. Eldridge
** DignityMA Sponsored **
This bill creates a new provision in the general laws, requiring the governor to annually issues a proclamation to remember the tragedy of the COVID-19 pandemic, to honor victims and survivors and their families who suffered from this pandemic, especially residents of nursing homes, and to take stock in the collective ability of public and private organizations and individuals on preparedness in the Commonwealth for future events that result in a declaration of a state of emergency.
1
S109
H201
An Act relative to supported decision-making agreements for certain adults with disabilities
Joint Committee on Children, Families and Persons with Disabilities
Joan B. Lovely, Sean Garballey, Angelo J. Puppolo, Jr., John F. Keenan, Christopher M. Markey, Vanna Howard, Marc T. Lombardo
(endorsed by DignityMA in 2021-2022)
S726
H1168
An Act protecting the homes of seniors and disabled people on MassHealth
Joint Committee on Health Care Financing
Joanne M. Comerford, Mindy Domb, Jack Patrick Lewis, Mathew J. Muratore, Christine P. Barber
(endorsed by DignityMA in 2021-2022)
Estate-Recovery-fact-sheet-23-24.pdf
S0749
~
An Act relative to pharmaceutical access, costs and transparency
Joint Committee on Health Care Financing
Cindy F. Friedman, Rebecca L. Rausch, Susannah M. Whipps, Joanne M. Comerford
(endorsed by DignityMA in 2021-2022)
S0152
H0378
An Act expanding wheelchair warranty protections for consumers with disabilities
Joint Committee on Consumer Protection and Professional Licensure
John J. Cronin, Jack Patrick Lewis, Kimberly N. Ferguson, Carmine Lawrence Gentile
(endorsed by DignityMA in 2021-2022)
S0756
H1202
An Act preserving special needs trusts for disabled seniors
Joint Committee on Health Care Financing
Patricia D. Jehlen, Susannah M. Whipps, Brian W. Murray, Patrick M. O'Connor, Kate Hogan
(endorsed by DignityMA in 2021-2022)
S0108
H0188
An Act establishing guardians as providers of medical care to support the rights of incapacitated persons
Joint Committee on Children, Families and Persons with Disabilities
Joan B. Lovely, Vanna Howard, Sally P. Kerans
(endorsed by DignityMA in 2021-2022)
Mass. Guardianship Policy Institute
S1434
H3303
An Act establishing the human service transportation (HST) consumer advisory board
Joint Committee on Public Health
Susan Moran, Mindy Domb , Sarah K. Peake
creates an HST consumer advisory board to ensure that consumers of the nonemergency human service transportation system have a formal opportunity and process to share concerns, insights and suggestions to ensure that the HST service is safe and reliable for all who depend on the service to get to medical appointments and other community services.
S0121
H3302
Resolve reviving and continuing the non-emergency human services transportation task force
Joint Committee on Children, Families and Persons with Disabilities,
committee on Transportation
Susan L. Moran, James B. Eldridge, Carmine Gentile, Jacob Oliveira, Mindy Domb , Sarah K. Peake
extends the HST Task Force, which by statute ended on December 1, 2022. The extension would afford greater opportunity to continue the process of program improvement and feedback, begun by the Task Force in its first year.
~
H0148
An Act establishing a livable home modification grant program
Joint Committee on Children, Families and Persons with Disabilities
Carol A. Doherty
Research tells us that elders and those with disabilities can look forward to a better quality of life by staying in their own home. Patterned after a successful Rhode Island bill, this legislation establishes a grant program for the purpose of assisting seniors and those with disabilities in making home modifications that will allow them to remain in their homes. The grant is equivalent to, at maximum, 50% of the total costs of the modification not to exceed $5,000.
~
No Assigned Number yet
An Act establishing a tax exemption for pension income for certain senior citizens of the Commonwealth
Carol Doherty
An Act establishing a tax exemption for pension income for certain senior citizens of the Commonwealth (new file); Rep. Carol Doherty; As more and more seniors are living on pension incomes and as their tax burden often increases beyond their ability to pay for essential needs such as food, medications and rents or mortgages this bill proposes to alleviate some of this burden by establishing a tax exemption for those over the age of 65 with pension income, whereby the first $20,000 of income derived from said pension would be exempted. After 20 years of payment (at age 85) 100% of income derived from pensions would be exempted.
S0383
H0629
An Act to improve Alzheimer's and dementia care in Senior Care Options programs
Joint Committee on Elder Affairs
Jason M. Lewis, Michael J. Barrett, Vanna Howard, Brian M. Ashe, Danielle W. Gregoire
require all Massachusetts Senior Care Options (SCO) plans, serving our most vulnerable populations, to provide comprehensive care planning services to SCO members that have been diagnosed with Alzheimer's disease and related dementias;
S1408
No assigned number yet
An Act to strengthen the direct care and dementia workforce
Joint Committee on Public Health
Paul W. Mark, Vanna Howard, Jack Patrick Lewis, Angelo J. Puppolo, Jr., Tram Nguyen
As the number of individuals living with Alzheimer's in Massachusetts grows, there will be an increased demand for home and community-based services as well as long-term care services, which also means an increased demand for direct care workers. This bill incentivizes careers in the direct care and dementia workforce, as well as provides opportunities for career development;
S1380
H2178
An Act to strengthen our public health infrastructure to address alzheimer's and all dementia
Joint Committee on Public Health
Adam Gomez, Vanna Howard, Jack Patrick Lewis, Angelo J. Puppolo, Jr. , Denise C. Garlick
Alzheimer's Disease and related dementias are a growing public health crisis. There were 130,000 individuals living with Alzheimer's Disease in Massachusetts as of 2020, and that number is expected to grow to 150,000 by 2025. This bill increases public awareness of Alzheimer's and other dementias; requires the collection of data on Alzheimer's and other dementia in Massachusetts, including racial and ethnic disparities; and creates a state Dementia Care
~
H0614
An Act relative to early-onset Alzheimer's disease
Joint Committee on Elder Affairs
Bruce J. Ayers
ensure services provided through the MassHealth Frail Elder Home and Community-Based Services waiver are made available to persons diagnosed with early-onset Alzheimer's disease regardless of their age, if they are otherwise eligible for such services.
S755
H1195
An Act clarifying rate setting processes for home health and home care services
Joint Committee on Health Care Financing
Patricia D. Jehlen, Carmine Lawrence Gentile, Vanna Howard, Susannah M. Whipps
Contact Info:
Home Care Alliance: hcollins@thinkhomecare.org,
Home Care Aide Council: jwattfaqir@hcacouncil.org,
Mass Home Care: lisap@tves.org;
S0380
H0649
An Act to improve Massachusetts home care
Joint Committee on Elder Affairs
Patricia D. Jehlen, Thomas M. Stanley, Joanne M. Comerford, Jack Patrick Lewis, Michael J. Moran
Currently, Massachusetts does not license non-medical home care services. These services are essential to the Commonwealth's long-term services and supports system and allow individuals to remain safely in their residence. The Enough Pay to Stay Coalition supports the creation of a licensure system that would establish baseline standards for agencies, to ensure a quality network of providers for consumers and keeping services affordable for those who rely on them. Contact Info:
Home Care Aide Council: jwattfaqir@hcacouncil.org.
Home Care Alliance: hcollins@thinkhomecare.org
Mass Home Care: lisap@tves.org;
S0379
H0648
An Act to improve quality and oversight of long-term care
COMMITTEE ON ELDER AFFAIRS
Rep; Thomas Stanley and Sen. Patricia Jehlen
NOTE: This is the so-called Comprehensive Bill that went to House Ways and Means last session. Dignity Alliance supports it with recommended improvements.
S0119
H0141
An Act to Expand Nicky's Law to Day Habilitation Programs; An Act updating Nicky's Law to protect individuals with disabilities in MassHealth day habilitation programs
COMMITTEE ON CHILDREN, FAMILIES, AND PERSONS WITH DISABILITIES
Representative Josh Cutler, Senator Mike Moore
This bill will require MassHealth Day Habilitation providers to use the abuse registry. This expands the protections of Nicky's Law to those in MassHealth Day Habilitation. This is priority refiled bill be The ARC of Massachusetts.
S0107
H0206
An Act relative to cueing and supervision in the PCA program
COMMITTEE ON CHILDREN, FAMILIES AND PERSONS WITH DISABILITIES
Representative James O'Day; Senator Joan Lovely
This bill will require the allowance of cueing and supervision, in the PCA program, as a covered service for those eligible members who need it.
S0904
H1296
An Act relative to accessory dwelling units
COMMITTEE ON HOUSING
Representative Christine Barber, Senator Bruce Tarr
This bill will allow the creation of accessory dwelling units for people with disabilities and older adults with an allowance for the owner occupier to be a special needs trust.
S0097
H0128
An Act ensuring equal access to medical treatments essential for people with a developmental disability, intellectual disability, or autism; ABA MassHealth for Adults;
COMMITTEE ON CHILDREN FAMILIES AND PERSONS WITH DISABILITIES
Representative Christine Barber; Senator John Keenan
This bill will require MassHealth to cover applied behavior analysis services for adults with autism and intellectual and developmental disabilities, where ABA is a medical necessity. Also included language for Assistive Technology coverage.
S1334
H2204
An Act to accelerate equity and effectiveness of our local and regional public health system
COMMITTEE ON PUBLIC HEALTH
MPHA LEGISLATIVE PRIORITY; This is the SAPHE 2.0 bill - which is a bill to assure minimum public health standards in every city/town in MA
(STATEWIDE ACCELERATED PUBLIC HEALTH FOR EVERY COMMUNITY )

Fact Sheet for SAPHE 2.0 (pdf)
S2277
H3272
An Act to increase regional transit opportunities in the Commonwealth
COMMITTEE ON TRANSPORTATION; MPHA LEGISLATIVE PRIORITY
This bill is the Regional Transit Authority Advancement Act - which would increase support for RTAs and help stabilize/expand public transportation to the majority of MA residents - including older adults! - who live outside the MBTA service area

Fact Sheet to increase regional transit accessibility(pdf)
S0076
H0135
An Act establishing basic needs assistance for Massachusetts immigrant residents; a legislative priority for MLRI
Sen. DiDomenico; Rep. Antonio F. D. Cabral; Rep. Judith A. Garcia
Restore basic benefits for MA immigrant residents
S0372
~
An Act directing the administration to amend the Frail Elder Home and Community-Based Waiver to permit eligible older adults to choose to reside in Certified Assisted Living Residences
COMMITTEE ON ELDER AFFAIRS
Senator Patricia Jehlen
A MA ALA legislative priority; Directing the administration to amend the home and community-based waiver to permit eligible older adults to choose the option of a certified assisted living residence.
S0083
H0171
An Act relative to rates for workers providing supports and services for individuals with disabilities.
JOINT COMMITTEE ON CHILDREN, FAMILIES, AND DISBALED PERSONS
Representatives Sean Garballey, Simon Cataldo , Senator Barry Finegold
This bill has to do with the Department of Developmental Services (DDS) and MassHealth workforce rate increase. This bill addresses the severe workforce shortage of direct support staff, program managers, and clinicians such as nurses.
Workforce
S0748
H1192
An Act to protect medically fragile children
JOINT COMMITTEE ON HEALTH CARE FINANCING
Representative Denise Garlick, Senator Cindy Friedman
Requires the state to increase the budget for continuous skilled nursing services in home care and mandates the office of Medicaid to review the wage payment rates established by home health agencies.
Workforce
S0753
H1180
An Act relative to preventing discrimination against persons with disabilities in the provision of health care.
JOINT COMMITTEE ON HEALTH CARE FINANCING
Representative Josh Cutler, Senator Adam Gomez
Prohibits hospitals, medical providers, or other public/private entities from withholding or de-prioritizing lifesaving care due to a person's perceived quality of life stemming from a disability.
Health
S0123
H0213
An act to increase the safety of individuals with disabilities relying on life-support equipment (Tommy's Law)
JOINT COMMITTEE ON CHILDREN, FAMILIES, AND DISBALED PERSONS
Representative Dave Rogers, Senator Patrick O'Connor
Bill requires appropriate discharge plan review with residential facility nursing staff and increasing accountability for medical equipment monitoring.
Health
S1553
~
An Act building a more accessible Massachusetts
JOINT COMMITTEE ON PUBLIC SAFETY AND HOMELAND SECURITY
Senator Michael Moore
This bill addresses loopholes that prevent buildings constructed prior to 1991, and all workplaces to be compliant with the Americans with Disabilities Act. It accomplishes this by bringing such buildings under the purview of the Massachusetts Architectural Access Board when newly built or when major renovations take place, ensuring more accessible housing units are available in our state and expanding employment access.
Housing / Workplace
~
H2291
Act expanding the availability of adaptable housing for people with disabilities and seniors
JOINT COMMITTEE ON PUBLIC SAFETY AND HOMELAND SECURITY
Representatives Michael Moran, Christine Barber
; This bill addresses loopholes that prevent buildings constructed prior to 1991, and all workplaces to be compliant with the Americans with Disabilities Act. It accomplishes this by bringing such buildings under the purview of the Massachusetts Architectural Access Board when newly built or when major renovations take place, ensuring more accessible housing units are available in our state, and expanding employment access.
Housing / Workplace
S0103
H0207
Act relative to persons with developmental disabilities
JOINT COMMITTEE ON CHILDREN, FAMILIES, AND DISBALED PERSONS
Representative Jim O'Day, Senator Joan Lovely
Bill adopts the federal definition of developmental disabilities, which includes fetal alcohol syndrome.
Equitable Access
S1037
H1601
An Act prohibiting discrimination against adults with disabilities in Family and Juvenile Court proceedings
JOINT COMMITTEE ON THE JUDICIARY
Representative Kay Khan, Senator Joan Lovely
Parents should not be denied the right to raise their children solely based on their disability. This bill requires courts to use evidence, not assumptions, to determine if a parent's disability causes actual harm to a child. Courts will have to explain in writing if a parent's disability is a negative factor in custody and parenting time decisions and assess if the harm can be avoided with accommodations (like adaptive equipment or supportive services).
Family
S83
H0171
An Act relative to rates for workers providing supports and services for individuals with disabilities.
JOINT COMMITTEE ON CHILDREN, FAMILIES, AND DISBALED PERSONS
Representatives Sean Garballey, Simon Cataldo, Senator Barry Finegold
This bill has to do with the Department of Developmental Services (DDS) and MassHealth workforce rate increase. This bill addresses the severe workforce shortage of direct support staff, program managers, and clinicians such as nurses.
S2025
H3031
An Act relative to the 401(k) CORE plan
Joint Committee on State Administration and Regulatory Oversight
Representative Ann-Margaret Ferrante, Senator Joan Lovely
An Act Regarding the 401k CORE Plan, would expand the Connecting Organizations to Retirement program run through the Treasurer's office, which gives non-profit employees a retirement savings option; sponsored by AARP
S0624
H0996
An Act to encourage retirement planning
Joint Committee on Financial Services
Representative Paul J. Donato, Sal N. DiDomenico
An Act To Encourage Retirement Planning, would go further, establishing the Massachusetts Secure Choice Savings Program, a retirement savings option that would be available to both for profit and nonprofit workers who lack a way to save through their paycheck; sponsored by AARP
S1547
H2397
An Act relative to parole review for aging incarcerated people
Joint Committee on Public Safety and Homeland Security
Representative Lindsay N. Sabadosa, Senator Liz Miranda
Sponsored by Prisoners Legal Services of Massachusetts
S0764
H2932
An Act to establish the family caregiving tax credit
Joint Committee on Revenue
Representative David M. Rogers, Senator Jason Lewis
creates a $1,500 tax credit for costs associated with taking care of elderly or disabled family members; sponsored by multiple organizations
S1048
H1682
An Act relative to summary process and rental assistance
Joint Committee on the Judiciary
Representatives Samantha Montaño, Peter Capano, Senator Liz Miranda
Provide housing stability by preventing unnecessary evictions that may be avoided through mutual resolution, therefore it is hereby declared to be an emergency law, necessary for the immediate preservation of the public safety and health
S0385
H0634
An Act relative to expanding the availability of personal care homes for older adults
Joint Committee on Elder Affairs
Representative Sally Kerans, Senator Joan Lovely
sponsored by multiple organizations
S2024
H3040
An act to modernize participation in public meetings
Joint Committee on State Administration and Regulatory Oversight
Representative Denise Garlick, Senator Jason Lewis
S1468
H2243
An Act relative to certified medication aides
Joint Committee on Public Health
Senator Bruce Tarr, Rep. Brian Murray
S0175
H1232
An Act relative to family members serving as care
Joint Committee on Health Care Financing
Senator Joan Lovely
Representative James O'Day
DignityMA Testimony for S775 and H1232.pdf
S0115
and
S0375
H0626
An Act increasing the personal care allowance for long term care residents
Joint Committee on Elder Affairs
Senator Patricia Jehlen
Representative Thomas Stanley
DignityMA Testimony for S115.pdf
S1927
H2733
Senate 1927: An Act relative to home modifications for seniors

H2733: An Act to provide an income tax exemption for families caring for their elderly relatives.
Joint Committee on Revenue
Senator Mike Rush
Representative Tackey Chan
DignityMA Testimony for S1927 and H2733.pdf
~
H0615
An Act to ensure the quality of care in nursing homes
Joint Committee on Elder Affairs
Representative Ruth Balser
~
H0616
An Act strengthening the Attorney General's tools to protect nursing home residents and other patients from abuse and neglect
Joint Committee on Elder Affairs
Representative Ruth Balser
Representative Andrea Campbell
~
H0628
An Act relative to certified medical directors at skilled nursing facilities
Joint Committee on Elder Affairs
Representative Kenneth Gordon
Representative Aaron Saunders
~
H0637
An Act establishing an LGBTQI long-term care facility bill of rights
Joint Committee on Elder Affairs
Representative Jack Lewis
Representative Sarah Peake
S0364
~
An Act relative to promoting the betterment of resident health and safety in long term care facilities
Joint Committee on Elder Affairs
Senator Julian Cyr and Representative Angelo Puppolo
S0378
~
An Act relative to small house nursing homes
Joint Committee on Elder Affairs
Senator Patricia Jehlen
S0384
~
An Act strengthening the Attorney General's tools to protect nursing home residents and other patients from abuse and neglect
Joint Committee on Elder Affairs
Senator Jason M. Lewis
Representative Andrea Joy Campbell
Archive 2021-2022 MA Bills
Bill No.
Title
Goal
Committee
Lead Sponsor(s)
More Info
S0131
Resolve Establishing a Special Commission on the Treatment of Intellectually and Developmentally Disable Offenders in the Criminal Justice System
3
Children, Families and Persons with Disabilities
Sen. Lovely


S131_endorse.pdf
S2104
An Act updating the Open Meeting Law to support remote participation
3
State Administration and Regulatory Oversight
Sen. Rausch
Rep. O'Day

(H3213)
S2104_3213_endorse.pdf
H3213
An Act updating the Open Meeting Law to support remote participation
3
State Administration and Regulatory Oversight
Sen. Rausch
Rep. O'Day

(S2104)
S2104_3213_endorse.pdf
H0227
An Act to support equal access to community care for elders and the disabled
3
Health Care Financing
Sen. Comerford
Rep. Higgins

(S748)
S748_H227_endorse.pdf
S0748
An Act to support equal access to community care for elders and the disabled
3
Health Care Financing
Sen. Comerford
Rep. Higgins

(H227)
S748_H227_endorse.pdf
S0404
An Act to Strengthen Emergency Preparedness for Home Care Workers
5
Elder Affairs
Sen. Friedman
Rep. Santiago

(H756)
S404_H756_endorse.pdf
H0756
An Act to Strengthen Emergency Preparedness for Home Care Workers
5
Elder Affairs
Sen. Friedman
Rep. Santiago

(S404)
S404_H756_endorse.pdf
S0773
An Act to Preserve Special Needs Trusts for Disabled Seniors
3
Health Care Financing
Sen. Jehlen
Rep. Hogan

(H1274)
S773_H1274_endorse.pdf
H1274
An Act to Preserve Special Needs Trusts for Disabled Seniors
3
Health Care Financing
Sen. Jehlen
Rep. Hogan

(S773)
S773_H1274_endorse.pdf
S0403
An Act to Improve Nursing Home Job Standards and Care Quality
4
Elder Affairs
Sen. Feeney
Rep. Balser


(H724)
S403_H724_endorse.pdf
H0724
An Act to Improve Nursing Home Job Standards and Care Quality
4
Elder Affairs
Sen. Feeney
Rep. Balser


(S403)
S403_H724_endorse.pdf
S1476
An Act to improve infection control within long-term care facilities
1
Public Health
Sen. Montigny
S1476_endorse.pdf
S0413
An Act to Improve Employer Standards for Massachusetts Nursing Homes
1
Elder Affairs
Sen. Jehlen,
Rep. Cronin,
Rep. Garbally

(H733)
S413_H733_endorse.pdf
June 30,2021: Testimony S 413
H0733
An Act to Improve Employer Standards for Massachusetts Nursing Homes
1
Elder Affairs
Sen. Jehlen,
Rep. Cronin,
Rep. Garbally
(S413)
S413_H733_endorse.pdf
June 30,2021: Testimony S 413
S0974
An Act to Establish the Office of Adult Decisional Support Services
1
Judiciary
Sen. Creem
Rep. Tucker

(H1898)
S974_H1898_endorse.pdf
H1898
An Act to Establish the Office of Adult Decisional Support Services
1
Judiciary
Sen. Creem
Rep. Tucker

(S974)
S974_H1898_endorse.pdf
S0788
An Act to establish the Family Caregiver Tax Credit
3
Revenue
Sen. Lewis
Rep. Roger

(H3043)
S788_H3043_endorse.pdf
H3043
An Act to establish the Family Caregiver Tax Credit
3
Revenue
Sen. Lewis
Rep. Roger

(S788)
S788_H3043_endorse.pdf
S0421
An Act to ensure resident safety within assisted living facilities
2
Elder Affairs
Sen. Montigny
S421_endorse.pdf
S0414
An Act to Ensure Quality of Care in Nursing Home
1
Elder Affairs
Sen. Jehlen,
Rep. Balser
(H727)
S414_H727_endorse.pdf
June 30,2021: Testimony on S 414
H0727
An Act to Ensure Quality of Care in Nursing Home
1
Elder Affairs
Sen. Jehlen,
Rep. Balser
(S414)
S414_H727_endorse.pdf
June 30,2021: Testimony S 414
S0419
An Act to Create Safe Environments for Home Care Workers and Consumers
4
Elder Affairs
Sen. Lovely
Rep. Moran

(H748)
S429_H748_endorse.pdf
H0748
An Act to Create Safe Environments for Home Care Workers and Consumers
4
Elder Affairs
Sen. Lovely
Rep. Moran

(S419)
S429_H748_endorse.pdf
H2419
An Act removing barriers to work that discriminate against persons with disabilities, mobility impairments, and seniors
3
Public Safety and Homeland Security
Rep. Barber
H2419_endorse.pdf
H1242
An Act relative to transfers of assets by MassHealth members
1
Health Care Financing
Rep. Barber
H1242_endorse.pdf
H1598
An Act relative to the Uniform Power of Attorney Act
1
Judiciary
Rep. Gentile
H1598_endorse.pdf
H1646
An Act relative to temporary guardians
1
Judiciary
Rep. Hill
H1646_endorse.pdf
S0124
An Act relative to supported decision-making
3
Children, Families and Persons with Disabilities
Sen. Lovely
Rep. Tucker

(H272)
S124 has been replaced by S2848

S124_H272_endorse.pdf
H0272
An Act relative to supported decision-making
3
Children, Families and Persons with Disabilities
Sen. Lovely
Rep. Tucker

(S124)
H272 has been replaced by H4725

S124_H272_endorse.pdf
S0406
An Act Relative to Small House Nursing Homes
1
Elder Affairs
Sen. Jehlen
S406_endorse.pdf
July 2021: Testimony S 406
S0422
An Act relative to reserving beds in nursing homes during certain leaves of absence
1
Elder Affairs
Sen. Montigny
S422_endorse.pdf
H2613
An Act relative to protecting local retirees
3
Public Services
Rep. Day
H2613_endorse.pdf
H1256
An Act relative to preventing discrimination against persons with disabilities in the provision of health care
3
Committee on Health Care Financing
Senator Sonia Chang-Diaz, Rep. Josh Cutler
(S2921 - formerly S745)
H1256_endorse.pdf
S0424
An Act relative to prevent patient abuse and death in nursing homes
1
Elder Affairs
Sen. Montigny
S424_endorse.pdf
H0731
An Act relative to mandatory reporting of elder abuse
3
Elder Affairs
Rep. Chan
H731_endorse.pdf
S0398
An Act relative to intensive case management for clinically complex older adults
3
Elder Affairs
Sen. Chandler
S398_endorse.pdf
S0418
An Act relative to expanding the availability of personal care homes for older adults
3
Elder Affairs
Sen. Lovely
Rep. Kerans


(H 745)
S418_H745_endorse.pdf
July 12,2021: Testimony S 415 and H 745 Meg Coffin, and Testimony S 415 and H 745 Samantha VanSchoick
H0745
An Act relative to expanding the availability of personal care homes for older adults
3
Elder Affairs
Sen. Lovely
Rep. Kerans

(S418)
S418_H745_endorse.pdf
July 12,2021: Testimony S 418 and H 745 by Meg Coffin,
Testimony S 418 and H 745 by Samantha VanSchoick
S2420
An Act relative to expanding the availability of adaptive housing for consumers with disabilities, mobility impairments, and seniors
3
Public Safety and Homeland Security
Rep. Barber
Rep. Moran

S2420_endorse.pdf
H2259
An Act relative to Do-Not-Resuscitate Orders
1
Public Health
Rep. Campbell
H2259_endorse.pdf
S0811
An Act relative to consistent treatment of life estates
3
Health Care Financing

Sen. Rausch
Rep. Murray
Rep. Higgins

(H1301)
S811_H1301_endorse.pdf
H1301
An Act relative to consistent treatment of life estates
3
Health Care Financing
Sen. Rausch
Rep. Murray
Rep. Higgins

(S811)
S811_H1301_endorse.pdf
H2246
An Act Relative to CNA Training
3
Public Health
Rep. Chan
H 2246 Endorsement.pdf
S1084
An Act relative to bullying in public housing to establish a statewide tenant protective services ombudsman for elderly and disabled residents in public and subsidized housing; to protect established rights of citizens and tenants.
2
Judiciary
Sen. Lovely
S1084_endorse.pdf
H0193
An Act regarding transparency for individuals and Guardians
1
Children, Families and Persons with Disabilities
Rep. Cahill
H193_endorse.pdf
S0681
An Act providing coverage for hearing aids
3
Financial Services
Sen. Hinds
S681_endorse.pdf
S0420
An Act protecting the rights of assisted living residents
2
Elder Affairs
Sen. Montigny
Rep. Barber

(H728)
S420_H728_endorse.pdf
H0728
An Act protecting the rights of assisted living residents
2
Elder Affairs
Sen. Montigny
Rep. Barber

(S420)
S420_H728_endorse.pdf
S0749
An Act Protecting the Homes of Seniors and Disabled People on MassHealth
3
Health Care Financing
Sen. Comerford
Rep. Barber

(H1246)
S749_H1246_endorse.pdf
H1246
An Act Protecting the Homes of Seniors and Disabled People on MassHealth
3
Health Care Financing
Sen. Comerford
Rep. Barber

(S749)
S749_H1246_endorse.pdf
S0412
An Act increasing the personal needs allowance for residents of long-term care facilities
1
Elder Affairs
Sen. Jehlen
S412_endorse.pdf
S1506
An Act increasing the personal needs allowance for residents of long-term care facilities
1
Public Health
Sen. O'Connor
S1506_endorse.pdf
S0397
An Act increasing awareness of community based PACE programs for older adults
3
Elder Affairs
Sen. Chandler
Rep. Madaro

(H747)
S397_H747_endorse.pdf
H0747
An Act increasing awareness of community based PACE programs for older adults
3
Elder Affairs
Sen. Chandler
Rep. Madaro
(S397)
S397_H747_endorse.pdf
S1257
An Act establishing a special commission to study and report on the history of state institutions for people with developmental and mental health disabilities in the Commonwealth
2
Committee on Mental Health, Substance Abuse and Recovery
Sen. Barret
Rep. Garbally

(H2090)
S1257_H2090_endorse.pdf
H2090
An Act establishing a special commission to study and report on the history of state institutions for people with developmental and mental health disabilities in the Commonwealth
2
Committee on Mental Health, Substance Abuse and Recovery
Sen. Barret
Rep. Garbally

(S1257)
S1257_H2090_endorse.pdf
S1482
An Act Ensuring Access to a Resident Representative in Long-Term Care Facilities
1
Public Health
Sen. Montigny
S 1482 Endorsement.pdf
H0737
An Act Clarifying Rate Setting Processes for Health and Home Care Services
3
Health Care Financing
Sen. Jehlen
Rep. Gentile

(S774)
S774_H737_endorse.pdf
S0774
An Act Clarifying Rate Setting Processes for Health and Home Care Services
3
Health Care Financing
Sen. Jehlen
Rep. Gentile

(H737)
S774_H737_endorse.pdf
S1629
An Act building a more accessible Massachusetts
3
Public Safety and Homeland Security
Sen. Moore
S1629_endorse.pdf
S0089
An Act Allowing Spouses to Serve as Caregivers
3
Children, Families and Persons with Disabilities
Sen. Comerford
Rep. Orall
(H1305)
S89_and_H1305_endorse.pdf
H1305
An Act Allowing Spouses to Serve as Caregivers
3
Children, Families and Persons with Disabilities
Sen. Comerford
Rep. Orall
(S89)
S89_and_H1305_endorse.pdf
S0900
Act to prevent and respond to bullying of elderly and disabled residents; to improve housing administration, establish best practices, train, educate.
2
Housing
Sen. Lovely
Rep. Honan

(H1407)
S900_H1407_endorse.pdf
H1407
Act to prevent and respond to bullying of elderly and disabled residents; to improve housing administration, establish best practices, train, educate.
2
Housing
Sen. Lovely
Rep. Honan

(S900)
S900_H1407_endorse.pdf
S0127
Act Establishing Guardians as Providers of Medical Care to Support the Rights of Incapacitated Persons
1
Children, Families and Persons with Disabilities
Sen. Lovely
Rep. Kerans

(H235)
S127_and_H235_endorse.pdf
H0235
Act Establishing Guardians as Providers of Medical Care to Support the Rights of Incapacitated Persons
1
Children, Families and Persons with Disabilities
Sen. Lovely
Rep. Kerans
(S127)
S127_and_H1235_endorse.pdf
S0908
An Act relative to accessory dwelling units
3
Committee on Housing
Senator Bruce Tarr, Rep. Christine Barber
(H1370)
H1370
An Act relative to accessory dwelling units
3
Committee on Housing
Rep. Christine Barber, Senator Bruce Tarr
(S908)
S2921

Formerly:
S0745
An Act relative to preventing discrimination against persons with disabilities in the provision of health care
3
Committee on Health Care Financing
Senator Sonia Chang-Diaz, Rep. Josh Cutler
(H1256)
H0205
An Act establishing a livable home modification program
3
Committee on Children, Families and People with Disabilities
Rep. Carol Doherty
S1867
An Act relative to taxes due upon the death of active-duty personnel and the elderly
3
Committee on Revenue
Sen. Cindy Friedman, Rep. Michelle Ciccolo
(H2849)
H2849
An Act relative to taxes due upon the death of active-duty personnel and the elderly
3
Committee on Revenue
Sen. Cindy Friedman, Rep. Michelle Ciccolo
(S1867)
H4175
An Act relative to the senior citizen work rebate program during the COVD-19 emergency
5
Committee on Revenue
Rep. Meghan Kilcoyne
S2695
An Act relative to pharmaceutical access, costs and transparency
Committee on Ways and Means
Sen. Cindy Friedman
Originally filed as S771
H4224
Resolutions establishing the annual observance of COVID-19 Remembrance Day
Committee on State Administration and Regulatory Oversight
Rep. Blais, Rep. Domb
DignityMA Resolution on H4224
S0416
An Act strengthening the Attorney General's tools to protect nursing home residents and other patients from abuse and neglect
1
Joint Committee on Elder Affairs
Sen. Jason Lewis, Atty Gen. Healy, Sen. Eldredge, Rep. Stanley
DignityMA Resolution on S416.pdf
H4780
An Act to Improve Quality and Oversight of Long-Term Care
1
Joint Committee on Elder Affairs
Rep. Thomas Stanley plus 74 Senators and Representatives and Attorney General Maura Healey
DignityMA Resolution on H4780.pdf
H1436
An Act promoting housing stability and homelessness prevention in Massachusetts
3
Joint Committee on Housing
Sen. Sal DiDomenico; Rep. David Rogers; Rep. Michael Day
(S874)
DignityMA Resolution on H1436.pdf
S0874
An Act promoting housing stability and homelessness prevention in Massachusetts
3
Joint Committee on Housing
Sen. Sal DiDomenico; Rep. David Rogers; Rep. Michael Day
(H1436)
DignityMA Resolution on S874.pdf
H4361
An Act to improve Massachusetts' competitiveness and reduce the cost of living - State Tax Cut Proposal Endorsement
Joint Committee on Revenue
DignityMA Resolution on H4361.pdf
S2848
An Act relative to supported decision-making
3
Children, Families and Persons with Disabilities
Sen. Lovely
Rep. Tucker
(H4725)
S2848 replaces S124

DignityMA Resolution on H4725 and S2848.pdf

H4725
An Act relative to supported decision-making
3
Children, Families and Persons with Disabilities
Sen. Lovely
Rep. Tucker
(S2848)
H4725 replaces H272

DignityMA Resolution on H4725 and S2848.pdf

S2009
An Act relating to access to public records
Senate Ways and Means
Sen. Michael Barrett
(H3150)

DignityMA Support
H3150
An Act relating to access to public records
House Ways and Means
Rep. Sean Garballey
(S2009)

DignityMA Support